Dr. Katie Hays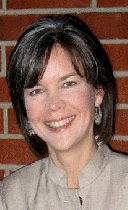 Katie, who was raised in the West Texas town of Tahoka, was a member of the Tahoka Church of Christ. After completing her college degree, she and her husband, Lance Pape, began a shared preaching ministry at the West Islip Church of Christ on Long Island. During those five plus years with West Islip, she was the only woman preacher in the Churches of Christ in the United States. After she and Lance left New York, she began preaching for a Christian Church in Georgia and has stayed with the Christian Church, eventually coming back to Texas. She now has an independent ministry in Mansfield, where she moved with her family. Her husband is the Granville and Erline Walker Associate Professor of Homiletics at the Brite Divinity School at Texas Christian University.
Presented at the 2012 Houston CBE Conference
The following articles are linked from gal328.com, the first web site about Gender Justice in the Churches of Christ which was originally started by her husband, Lance Pape.
return to Where the Spirit Leads