Dr. Katie Hays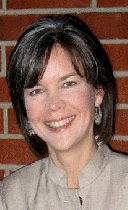 At the time Katie wrote most of the articles linked below, she was co-minister for the West Islip Church of Christ on Long Island, sharing the pulpit with her husband, Lance Pape. I have known Katie on line for a number of years but I did not have the privilege of being able to meet her in person until recently. However, one of my daughters had that privilege about six or seven years ago and she told me that the talk Katie gave that day at Abilene Christian University in the daily student chapel was "totally awesome"! Katie served for several years as the minister for the Northwest Christian Church/Disciples of Christ in Arlington, TX. About a year ago, she began a new ministry in Mansfield, TX.
Presented at the 2012 Houston CBE Conference
The following articles are linked from gal328.org, the first web site about Gender Justice in the churches of Christ
which was originally started by her husband, Lance Pape.
return to Where the Spirit Leads